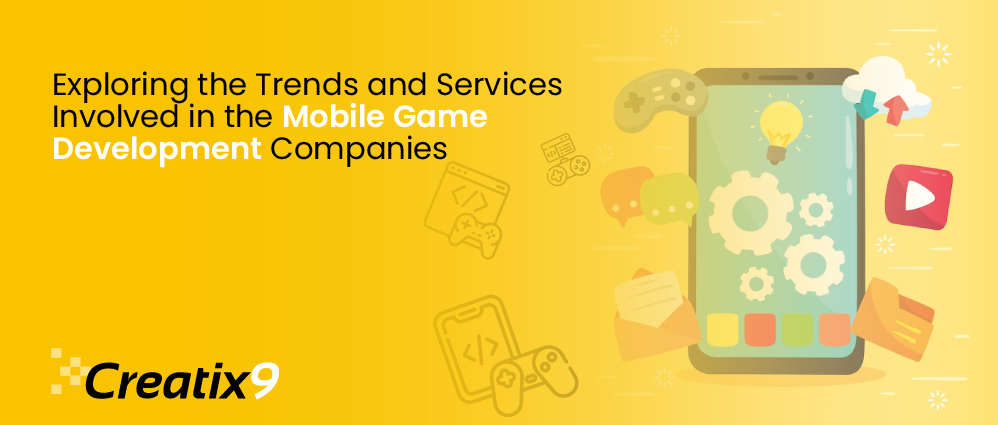 This has resulted in an upheaval shift within the mobile game development industry in Dubai – a global technology hub. With an increasing appetite for immersive digital entertainment comes the necessity to constantly evolve mobile game development Companies. In this blog, we will delve into the evolving landscape of mobile game development in Dubai, focusing on the latest trends and services that are reshaping the industry.
According to Statista, some parts of the GCC, including UAE have substantially achieved in their digital transition. By 2027, it had been predicted that the rates of AR and VR technologies' penetration would surpass 50% in Qatar and UAE. In this dynamic city, we will take a look at how recent advancements and rise in augmented reality (AR), virtual reality (VR) and multiplayer game experiences drive success in mobile game development.
Augmented Reality (AR) Gaming Experiences
Another important trend that is transforming the mobile game industry in Dubai is augmented reality (AR). AR games integrate the real world into virtual gaming environments to immerse and engage user players by providing them with an interactive experience. The potential of AR has been tapped by developers in Dubai to create fascinating gaming experiences that range from location-based games to AR-driven puzzles and adventures. With these games, gamers get to interact with their environment, discover mysterious treasures and interact in virtual characters that leave nothing less than a clear distinction between real and virtual life on a gamer's mind. AR games popularity has spiked as a result of the improved functionality of smartphones and increased uptake among users.
Multiplayer and Social Gaming Experiences
The increasing popularity of networked and community-oriented games as well as multiplayer experiences, is another prominent movement in mobile game design. Developers in Dubai are concentrating on developing social gaming where players interact with their fellows and others. As a result of multiplayer games, competition is encouraged and collaboration is enhanced as people come together or compete live in various teams. Most of these games come with chat capabilities, leader-boarding options, as well as social media integration that enables sharing scores and experiences amongst friends. These games have a social element that increases interactions, making it interesting for players and leading players to stick with them for long periods. In line with this, the mobile game developers benefit from the trend of multiplayer and social gaming experiences among which the companies of mobile game development in Dubai.
Cross-Platform Gaming
Recently, cross-platform gaming has become very popular, and such companies developing mobile games located in Dubai have been actively involved therein. As a result, developers turn their attention towards creating games that could smoothly play for the major platforms. Players could play their favorite games without restrictions on smartphones, tablets, consoles or PCs. This furthermore broadens its audience and enriches its general gaming experience with cross-platform gaming. In line with this, Dubai-based game developers are using their talents to enhance the execution of video games as well as deliver uniform gameplay regardless of the device.
Immersive Virtual Reality (VR) Games
In fact, a boom of immersive VR game development in Dubai is transforming the mobile gaming world with its virtual reality experience. Players in the world can utilize VR technology and enter a virtual reality that is full of immersion and interactive actions. Whether on an extreme mission or in a photorealistic simulation, VR games take gaming beyond conventional boundaries into immersion. UAE-based developers exploit VR to produce enchanting graphics, immersive settings and control schemes, generating a feeling of presence that hooks gamers. This has seen the growing demand of immersive VR games as the VR hardware becomes much cheaper and within reach. Mobile game software development companies in Dubai are investing in VR expertise, pushing the boundaries of what's possible in terms of storytelling, gameplay mechanics, and player engagement.
Esports Integration
Competitive gaming or esports have gone professional worldwide including in Dubai where it has earned great popularity. In Dubai, mobile game development companies have started noticing the esport potentials as competitive elements are being added up by them. These organizations are developing multiplayer games with strong matchmaking systems, rating schemes, and tournament modes for competitive gaming. That is why the developers create a unique ecosystem which involves developing skills, engaging the community, and supporting enthralling esports events. The city of Dubai has a top-notch infrastructure comprising advanced esports arenas and specialized gaming tournaments that are promoting esports growth even more. As a result, mobile game developers have started making games targeting the competitive gaming scene as an opportunity to have their players demonstrate their expertise.
In addition, cross-platform development is popular in Dubai that allows players to access games on multiple platforms, including PCs or consoles, in addition to smartphones. Moreover, the VR experience is becoming more popular; it has already been implemented for Dubai Police Department use. Esports integration is another Dubai-based developers are riding on this wave and exploring new frontiers in innovations and creativities to bring exciting, exhilarating and engaging gaming experiences. Thus, with such prowess growing in the industry, Dubai still stands out as one of the globally acclaimed centers of avant-garde mobile game manufacturing.
Custom Game Development Solutions
Mobile game development companies, in Dubai are offering specialised and bespoke game development services to suit the unique demands of their customers. These companies provide complete services from conceiving the target audience and needs of a specific project, prototype, program, and quality control. Throughout the development process, they work in very close proximity to clients, making sure they meet the vision of the client at the end of the day. Dubai's game development firms offer tailored solutions for different categories of games ranging from casual games to realistic simulations. Uniquely, they approach the market with a custom design, thus allowing businesses to come up with distinctive games.
Game Monetization Strategies
Besides, these firms ensure they produce enticing gaming experiences while also effectively utilizing good monetization techniques for the mobile market of Dubai. They help their clients earn revenue by allowing them to sell in-game items in the apps, adverts and subscriptions. Companies today fully grasp that they must find a fine line between the user's convenience and increased profits. Such games are created using smart monetization technologies, facilitating fun while playing a match. With data analytics, it is possible to optimize revenue models for clients by the understanding of users' behaviors for Dubai developers.
Game Analytics and Data-driven Insights
Dubai's mobile game development companies appreciate the value of using data to reach the highest potential of gaming. They provide end-to-end game analytics solutions with advanced data tracking tools & techniques that help gather, collate, and analyze players behavior, engagement KPIs and monetization patterns. This helps the developer understand what players like, what games are performing better than others, and where there is room for development. This process leads to fine-tuning of gameplay dynamics, effective in-app buying strategies, and an all-around better playing experience. In addition, companies from Dubai that are engaged in the creation of games have helped their customers come up with effective techniques for retaining players' interest, like tailored reward systems and specific promotions derived from insightful data analysis. Using game analytics, developers in Dubai assist clients in achieving sustainable development and financial prosperity of gaming enterprises.
Game Design and Conceptualization
Design and concept are critical to a mobile game's success. The mobile game development companies can transform the vision of the client into reality by providing experts on Game design/conceptualization in Dubai. Collaborating with a client is crucial for learning his/her vision and the dynamics of the market. The developers in Dubai utilize their innovative prowess that encompasses creative artistry, imaginative storylines and exciting gaming features. Through creating great-looking art assets, intelligent user interface designs, among others that provide smooth controls. Using a combination of technical skill with an added artistic touch, these game developers always make sure that every one's game is visually enchanting and captivating. In addition, they concentrate on the design of the user experience, which makes the game play convenient, engaging, and adjusted specifically for mobile usage. Dubai offers game design and conceptualization services that span across different game genres, from simple casual games to more complex simulations, hence laying a solid ground for game development.
Post-Launch Support and Maintenance
While launching is just a start for a mobile game, it must be supported and maintained over time. Mobile game development companies in Dubai offer post-launch support services, which guarantee that the games are not outdated, bugs are fixed, and optimization is maintained. Through these companies, regular updates and patches are offered as solutions to the technical problems or glitches reported by players. Monitoring & optimizing server infrastructure for seamless multi-player game experience. In addition, developers from Dubai also offer continuing care and support in areas such as performance enhancement, compatibility checks, and security upgrades. That is why adopting a proactive attitude towards post-launch support ensures that players remain satisfied with their experience, it promotes longer playing periods and profitability.
Companies for mobile game development in Dubai provide services beyond just creating games. These services include both one-off assignments such as game analytics reporting and data-driven insights, one-time game design and conceptualization, and longer-term support and maintenance. Developers based in Dubai make an indispensable contribution to the achievements of mobile games, including full solutions through the whole game development process.
Conclusion
The mobile game development scene in Dubai is constantly changing as a result of new fashions and the creation of fresh products. Industries change as AR technology is incorporated into mobile playability of multi-player and social games, with special game development solutions and good monetizing of such technologies. Dubai is fast becoming a world leader in the area of technology and the city's mobile game development companies are first among those who bring new and high-quality gaming experiences. In doing so, they embrace the various trends available. Furthermore, if you are looking for a mobile app Development Company in Dubai, get in touch with Creatix9.