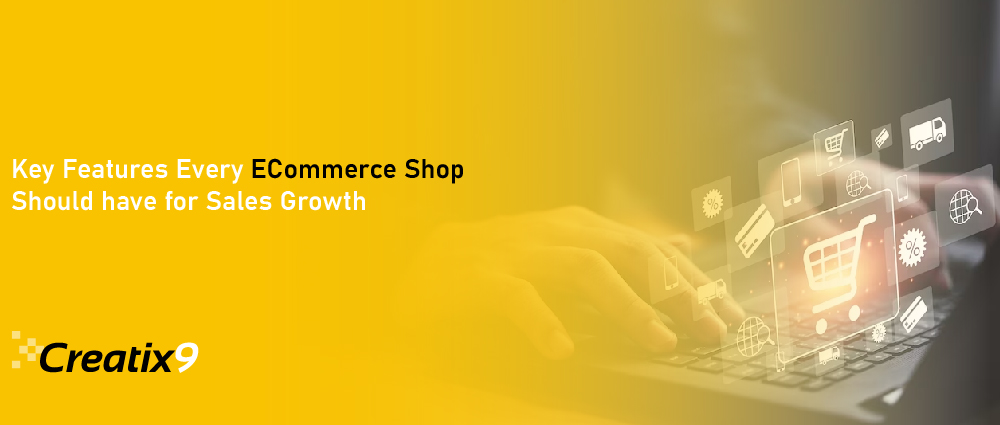 In recent years, eCommerce has experienced a large progression as clients have moved their spending from physical towards online purchases of goods and services, especially Generation Z.
In 2020, at the onset of the pandemic, the U.S. Department of Commerce reported a significant 31.8 percent surge in eCommerce activity. Currently, the US citizens between 18 to 24 are 46.9 percent for e-commerce shopping.
As more and more purchases are conducted exclusively through online channels, numerous business owners seized the opportunity to establish eCommerce websites for their respective brands.
 More than simply ecommerce website development is required to attract consumers to your brand. So, it is essential to consider incorporating specific eCommerce website features to drive revenue growth and accelerate your business.
In this blog, we will delve into the following topics:
Exploring business models suitable for developing eCommerce websites.
Optimizing your eCommerce store effectively.
Identifying the right provider for eCommerce website design services.
Let's begin by determining whether creating an eCommerce website is suitable for your business.
Business Models That Make An ECommerce Website
In the land of eCommerce, various business models exist. Recognizing your business's category is essential as it forms the foundation for your overarching eCommerce marketing strategy, enabling you to pinpoint your focus, identify opportunities, and assess potential threats.
Business to Consumer (B2C)
Here, businesses sell products and/or services to end consumers directly —the most popular e-commerce model. Here, consumers sell their products online, ranging from electronics and fashion to home appliances and much more.
Business to Business (B2B)
B2B eCommerce websites serve business to other business like purchasing and selling online between businesses (excluding retail sales)—their deals typically concern large purchases or made-to-order items.
Business to Government (B2G)
B2G ecommerce sites target government departments. Government Procurement, office Supplies and Construction Materials.
Business to Business to Consumer (B2B2C)
B2B2C model — where B2C is an e-commerce website that acts as an intermediate between companies and end customers. They allow brands to expand their reach through integrations with eCommerce platforms.
Consumer to Consumer (C2C)
C2C Ecommerce site facilitates commerce among individuals. Here individuals could sell their items/services straight to the customers using internet mediums like eBay and Craigslist.
Consumer to Business (C2B)
C2B e-commerce sites allow individual customers to sell goods or services to corporations. This model is used by freelancers, influencers, and experts, selling their knowledge or Content Creation online to corporations.
Let's explore strategies to enhance your business's eCommerce marketing approach.
How To Raise Your ECommerce Website?
While engaging directly with an eCommerce web design services provider is essential, the key to creating the best eCommerce sites lies in a combination of factors. It's not just about the design; it's about:
User-Friendly Website Design
The ultimate goal is not merely getting consumers to visit your store; it ensures a seamless user experience. Failure to do so may lead them to abandon their shopping cart and seek alternatives, potentially from your competitors, whether next door or online.
Indeed, the most critical element to prevent cart abandonment is an eCommerce website development and design that prioritizes user-friendliness. eCommerce website designers recommend incorporating the following features:
Start with a straightforward homepage that conveys your shop's essence from the outset.
Include a search bar to facilitate searches for specific products by consumers who know what they seek.
Organize your products or services into categories, helping customers navigate and explore their choices more effectively.
In addition to ensuring your website's user-friendliness, pay attention to the importance of implementing a vigorous eCommerce SEO strategy to enhance the visibility of your content on search engine results pages (SERPs).
Several Flexible Payment Options
Customers often abandon their shopping carts due to limited and inflexible payment options. If you frequently encounter cart abandonment issues, assessing your current payment methods is crucial. To address this, consider expanding your payment options to allow customers to complete their purchases more comfortably.
Take Amazon, for instance, which offers a wide array of accepted payment methods:
Visa like the Amazon Rewards Visa Signature Card
Prepaid credit or gift cards from Visa, MasterCard, or American Express
Discover Network
China UnionPay (credit card only)
MasterCard/EuroCard
Amazon Secured Card
American Express
Amazon Store Card
Diner's Club (U.S. billing addresses only)
STAR
NYCE
JCB
This exhaustive list contributes to Amazon being recognized as one of the best eCommerce platform out there. You can smoothly incorporate payment gateways such as Stripe and Paypal with ease in case of an online business that is a bit smaller. Payment service providers make possible for you to use different forms of payment in your checkout like credit card, voucher, bank debit, bank transfer, and e-wallet, buy now, pay later, etc.
Here's a valuable tip from eCommerce website builders: Implement a feature that allows customers to save their payment information for future transactions securely.
Customer Service
Enhancing your eCommerce ROI, or return on investment, greatly hinges on offering accessible customer support. According to Microsoft, 90 per cent of American consumers consider customer service a pivotal factor in their purchasing decisions.
To facilitate this, consider integrating a chat plugin into your online store, enabling real-time engagement with visitors and addressing their queries promptly. This also helps in reducing additional support expenses.
Some of the top-notch live chat plugins to consider:
HubSpot
Olark
LiveChat
Tidio
Zendesk
These plugins offer various advantages, such as:
An automated ticketing system
Messaging capabilities across web, mobile, and social media
Comprehensive reporting and analytics
AI-driven chatbots for round-the-clock customer support
Predefined responses for efficiency
Omnichannel support for seamless customer interactions
Here's a valuable tip from eCommerce website hosting experts: Inquire with your eCommerce website development and design services provider about including chat plugin integration.
Website Reviews and Feedback
In today's online shopping landscape, where consumers can't physically inspect or test products, they heavily rely on eCommerce website reviews to inform their purchasing decisions. We frequently turn to the review sections on platforms like Amazon and Facebook.
The most effective eCommerce websites feature dedicated sections where customers can contribute and examine genuine product reviews. This serves as a valuable means to showcase the quality of your products.
Additionally, proficient eCommerce website builders can incorporate a question-and-answer (Q&A) section, fostering customer engagement. However, it's essential to step in and provide answers when customers encounter queries that others may be unable to address.
A valuable tip from eCommerce website review experts: Always respond to reviews and feedback. If you're constrained by time and resources, consider enlisting the services of an online reputation management company, such as Rize Reviews, to assist in managing this crucial aspect of your website.
Mobile-Friendly Website
Consumer transactions, especially on mobile devices, have become the primary "marketplace." Hence, your eCommerce website design must adapt to mobile devices without a glitch.
In 2023, mobile devices accounted for 74 per cent of retail eCommerce sales, according to Statista.
Besides emphasizing the importance of selecting the best eCommerce platform for SEO and for secure eCommerce website hosting, you must give equal attention to making your website mobile-friendly.
Here's a valuable tip from eCommerce website designers: Ensure they use mobile-responsive templates or themes when working with eCommerce website development and design services.
Loyalty Program
Who wouldn't appreciate a great deal or special treatment as a customer? Enhance the customer experience by introducing a membership program, allowing loyal customers to access exclusive pricing, deals, offers, and additional perks.
eCommerce website designers strategically emphasize the loyalty program on your online store. Furthermore, you can promote your discounts effectively through pay-per-click (PPC) advertising.
With your eCommerce marketing plan don't forget to give loyal customer early access to announce updates for new product & services will increase eCommerce ROI.
Here's a valuable eCommerce marketing tip: Craft vouchers to distribute to your customers via newsletters.
Complete Product Information
Ensure your product pages contain concise yet comprehensive product descriptions. This should include material, colour, size, ingredients, place of origin, and more. Anticipate potential consumer inquiries and address them within this section. For instance, include information about warranties, as consumers often inquire about this.
Incorporate high-quality images and videos showcasing your products.
Here's an eCommerce SEO strategy expert tip: Implement a "related products" or "customers also viewed" section on each product page. Additionally, consider utilizing the finest eCommerce platform for SEO.
Now that you are well-versed in the essential eCommerce website features, you are prepared to take the next crucial step in enhancing your eCommerce ROI: identifying a suitable eCommerce web design company.
Where To Catch The Right ECommerce Web Development Firm
Finding the proper eCommerce web development and design services provider can be challenging. However, as emphasized in this blog, client testimonials serve as a dependable source of information, and Thrive boasts a wealth of success stories to share.
Thrive, a specialized digital marketing agency in eCommerce web design and marketing, has a proven track record. With the experience of assisting on platforms like Amazon & Shopify, several of our enterprises attain exceptional outcomes, which incorporates a 61% YoY increase in Transaction and 62% rise in Google Shopping conversion.
For inquiries, feel free to reach out to our team of eCommerce specialists through our contact page.
In no time, get one of Dubai's top web development companies.