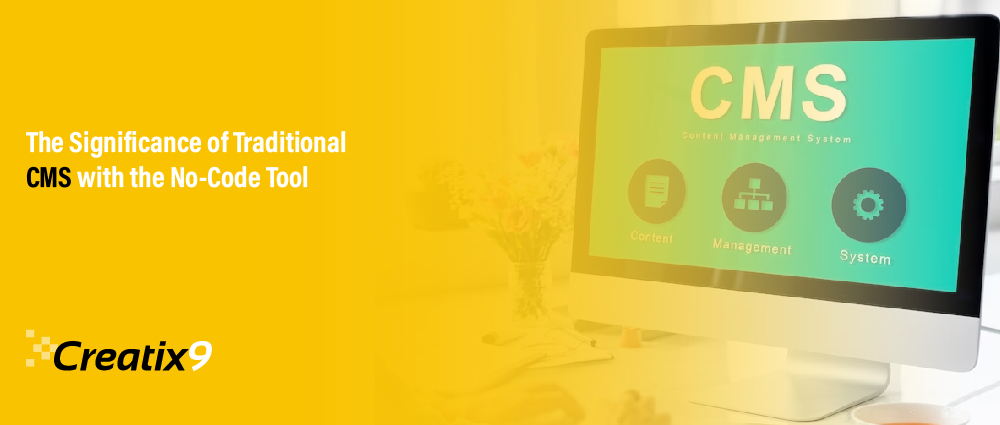 As an open-source website builder named WordPress, the leading CMS, emerged in 2003 and have usage on over 40% of websites. In its early days, WordPress aimed to enable non-technical users to construct websites for desktop or laptop viewing.
However, the internet has evolved, expanding beyond desktop sites to various digital touchpoints and channels. So, CMS has become a need to adapted accordingly.
The modern marketing landscape centres on the digital experience, and CMS is the driving force behind it. Digital presence extends beyond company websites, encompassing mobile, social, IoT, and more. Today's CMS must deliver content to wherever users are. Consequently, this transformation has given rise to new CMS development services, integrations, and the swift embrace of headless and hybrid CMS solutions.
In this piece, we'll delve into the fundamental aspects of CMS—its definition, relevance to marketers, available tool categories (traditional, headless, and hybrid), the key stakeholders using CMS, enabling software/platforms, the pivotal role of CMS in aiding marketers, and additional resources for deeper CMS understanding.
What is a CMS?
A CMS is a software where users can make, edit, and post digital content online with no coding.
Key features of a CMS include:
A content editor for formatting text and adding content like images and videos.

Extensions and plugins for adding functionality and reaching new channels.

Integration with third-party services.

Marketing and SEO capabilities.

User management tools to facilitate team collaboration, including user permissions.

Customizable design templates that define your website's appearance.
Content Management Tools Types: Traditional, Headless, And Hybrid
Although, there are mainly two CMS types that exist now: traditional and headless systems. But a third option has also entered the market, known as the hybrid or "decoupled" CMS, which combines elements of both. Here are the details of these three CMSs, so we begin with the traditional CMS.
Traditional (coupled/monolithic) CMS
In a "coupled" or a "traditional" CMS, the content management application and content delivery application (CDA) are strongly connected. Traditional CMS platforms, such as WordPress, Squarespace, and Sitecore, serve as web design and content delivery tools bundled into a single package.
In this package, there is a back-end resources for website functionality (CSS, code, security and data) along with front-end presentation layer (website's design layout, elements, and content). Because code and content are intertwined, any modifications to the front end affect the back end, and vice versa.
The coupled CMS approach poses challenges when repurposing website content, as content delivery and management are intertwined with a single vendor. This integration often hampers innovation, as adding new features, functionalities, or channels necessitates intricate workarounds and can entail rebuilding the entire website.
Headless CMS
This is accomplished by providing content and data through web services or APIs, following an API-first architecture.
The term "headless" reflects the absence of a dedicated front-end system or presentation layer for content creation and publication.
For non-technical users, headless systems lack user-friendly interfaces or editors. Essentially, they function as a comprehensive repository of content that interacts directly with specific devices through APIs. While developers can create applications to facilitate content authoring and previewing, this reliance on developers for front-end functionality can be limiting for marketers and non-technical users.
The advantage of headless CMSs lies in their adaptability to deliver content across various touchpoints and channels. Content is dispatched to its destination via API calls, treating it as data that can be directed to any device or channel. Consequently, interest in headless CMS is rising for these and other reasons.
Hybrid CMS
A hybrid CMS combines headless architecture's flexibility with a monolithic system's user-friendliness.
Nick Barber, a senior analyst at Forrester, calls them "Agile CMSs," he says it is designed to satisfy practitioners and developers by enabling collaborative yet iterative methods to content and user experiences.
Hybrid CMSs' headless API-first content delivery and traditional server-side page rendering cater to business users and developers.
This approach allows developers to work in their preferred programming environments without being bound to a single platform or programming language.
Empower non-developers hybrid systems also add features to customize website design, make and manage content, and preview content with no coding skills needed. Non-technical users can construct the company's website, while content remains adaptable for various channels through APIs.
As per research, with leading vendors, most headless CMS platforms now integrate hybrid functionality like Optimizely, Adobe, and Acquia.
Why Should Marketers Pay Attention To CMS?
The internet hosts a staggering 74 million websites employing CMSs. Most of the online content we encounter is crafted, published, and consumed through a CMS.
As a foundational tech, CMS holds importance for digital marketers as it smoothly integrates with plentiful other tools and platforms. Thus, across all digital touchpoints, it can enable omnichannel client experiences.
The CMS serves as the linchpin within the technology stack, forging a connection between your core content environment and the layers responsible for engagement, interaction, and content delivery.
If you need help with CMS, approach us. With the mixture of rich functionality, responsive UI, high scalability, and robust data security in CMS development for a decade, Creatix9 UAE knowledgeably brings custom CMS development services to Dubai.
Who Utilizes Or Collaborates With CMS?
Nearly every business with an online presence relies on some form of CMS. Most of these websites are powered by WordPress, accounting for 64.1% of the market share, while platforms like Wix, Squarespace, and Shopify rapidly gain ground.
Examples of CMS usage encompass:
Small to medium-sized businesses with limited programming expertise: SMBs, solopreneurs, and freelancers often require websites but may lack the programming know-how or budget to develop one from scratch. CMSs like Wix, WordPress, and Squarespace cater to this demographic by offering cost-effective packages and diverse features, enabling virtually any business to establish a professional online presence.
Content managers tasked with regular content creation and publication: A CMS's "head" component empowers non-technical users to generate, modify, and publish content without relying on programming or IT teams. For all digital content, the CMS serves as a storage place and this content that marketers can reuse for multiple projects, particularly when combined with other technology tools.
SEO editors aiming to enhance website rankings: Many CMSs incorporate built-in SEO features, including free or budget-friendly downloadable plugins, streamlining search engine optimization efforts. Through CMS Elements like optimized permalinks, alt tags, Meta descriptions, image resizing, page titles, and you can manage directly, evading the overloaded development team.
Concerned business owners seeking website security: Due to known susceptibilities under attack by hackers, open-source CMSs such as WordPress may pose certain security threats. Squarespace and Wix are the hosted CMS solutions that take care of content security. Hosted CMSs manage vital tasks like monitoring to protect websites and even backups and updates about websites from malicious hackers.
Marketers needing the formation of marketing content and landing pages: Marketing team members can make content similar to content managers, containing landing pages, to boost their campaigns. When the CMS is integrated with robust tools like CDPs or DXPs, marketers access a content repository for personalized messaging and effortlessly procure digital assets for advertising, email campaigns, and more.
Tools, Software, Or Platforms That Enable Content Management?
Content management technology is an integral component of a broader content ecosystem businesses employ to engage audiences across various digital channels, particularly relevant for ecommerce companies overseeing multifaceted consumer shopping journeys.
Within the CMS network, the following software types play key roles:
Digital experience platforms (DXPs): DXPs, or Digital Experience Platforms, give marketers full control over how their audience experiences digital content. They have important features like connecting with other platforms, content management, a media storage place, analytics for optimization, personalization tools, and managing customer data. In some instances, DXPs may include ecommerce functionalities for merchants.
DXPs empower businesses to generate and house content serving diverse purposes, extending beyond the company website to deliver content through mobile apps, smart speakers, podcasts, and more.
Digital asset management platforms (DAMs): DAMs serve as complete libraries that stock and bring together a company's digital assets, like presentations, documents, videos, images, and more. DAMs enhance accessibility by attaching metadata to each content piece, facilitating easy search and retrieval by any team member. They prove invaluable for version control, brand consistency, and message coherence. Integration of DAMs with other tech stack components, including CMSs, enables content linkage to user interactions across various channels.
Customer data platforms (CDPs): CDPs, akin to DAMs but focused on customer data, unify data from internal and external sources, establishing a centralized repository of customer information. This united data is a "single source truth" about clients, mixing online and offline data. Marketers leverage CDP insights to inform content creation, and integration with CMSs facilitates personalized content delivery to individual customers across all digital channels.
 Ecommerce platforms: Ecommerce platforms function as CMSs tailored to digital commerce. They allow companies to sell products and services online. Like standard CMSs, ecommerce platforms offer headless, monolithic, and hybrid variants. The key distinction lies in that ecommerce platforms such as Kibo, and Shopify encompasses features extending beyond website creation, encompassing the back-end operations of online stores, including inventory and order management, online sales channels, fulfilment, and product merchandising.
How CMS Empower Marketers In Their Roles
CMS streamlines the process for marketers to craft, oversee, and publish content, eliminating the need to rely on developers or IT teams. These systems boast user-friendly interfaces and incorporate features such as customizable themes, templates, and layouts, rendering it feasible for virtually any business to fashion a polished and visually appealing website.
Headless and decoupled CMS technologies extend marketers' capabilities, enabling them to expand their digital content strategy beyond their company's website. This expansion encompasses delivering personalized content to consumers across diverse channels, touchpoints, and devices.
In 2003, WordPress launched, and since then, the digital setting has gone through important changes, covering the IoT devices, mobile web, mobile apps, and social platforms. This development is ongoing, with nonstop growth into new channels like AR or VR and OTT/CTV.
Given the prevalence of CMS technology employed by tens of millions of websites, it is more than a mere assertion to state that CMSs constitute the bedrock of the internet. Regardless of technical proficiency, they empower businesses and individuals to easily conceive, construct, modify, and oversee web content.
Conclusion
You know that CMS empowers marketers to efficiently handle and publish content so they don't have to rely on technical teams. More to say, opting for CMS development services in the UAE is a valuable way for marketers to obtain excellent results in content creation.
However, CMS platforms like WordPress, with their user-friendly interfaces and versatile features, allow website creation to be available to a broader audience.
Also, launching headless and decoupled CMS technologies gives a good option for marketers to enlarge their reach across various channels and devices (social media platforms, IoT devices, and more). Marketers can now have personalized content experiences for their audiences.
As the digital network continues to evolve into new borderlines, such as OTT/CTV or AR, CMSs stay at the core of content formation and distribution, helping digital marketers.
With the service of a B2B & B2C portal development company, digital marketers can better approach all digital marketing efforts because our experts have all the related knowledge; whether it is CMS development or digital branding, we serve all the areas.
So don't wait and call us. We are one of the top digital agencies in Dubai. Thanks!