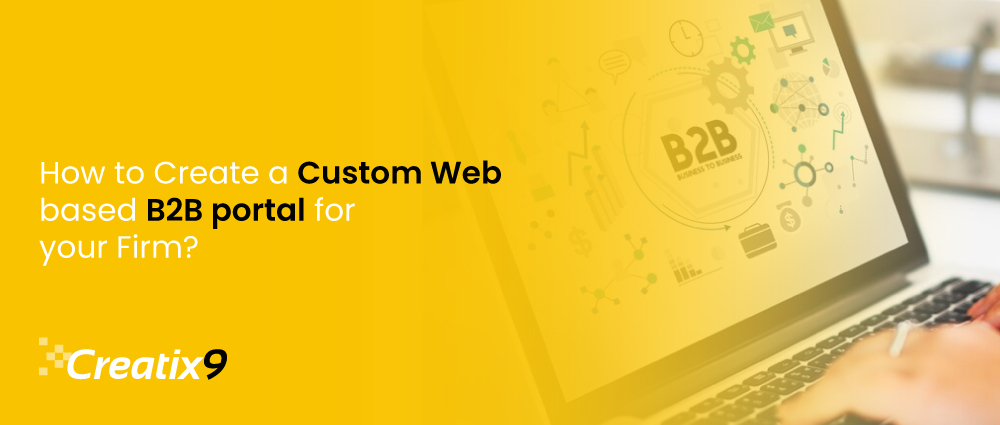 Everyone knows that digitalization is in heavy demand, and for Web-based B2B portal development, you can say the same thing. One-fifth of B2B firms trade their items or services already and entirely digitally. It overpasses about every channel (emails, videos, and phone) through revenue streams and links through in-person sales (US). Doing this allows the firms of B2B brands to raise their investment in web portal manufacturing.
If you imagine moving your transactions digitally, you must deliver your consumers and partners a quality digital portal. Here comes our guide. Read on to learn about:
How to mold a web portal to the particulars of B2B space
What features do you imagine as a main to confirm your customers and partners remain on your portal?
What advantages will you gain with the integration of a quality portal into your procedure
How to create a Web-based B2B portal in four tested steps
What is the asking price to construct a fully-fledged portal
But let's first take a quick rough idea of the facts of web portals and how they are suitable in B2B operations.
What is a Web-based B2B portal?
A Web-based B2B portal is a complete online hub. Here, clients, vendors, or partners can conveniently access products, services, and content. While conducting transactions. Relying on your objectives, you can use it as a strong sales engine, a marketplace, or a collaborative platform. The major advantage is that you can tailor your portal precisely to your target audience's unique demands. It can be your crucial competitive edge.
Like B2C customers, today's B2B buyers desire the ability to conduct research and complete transactions independently. Portals empower them with web tools that are accessible 24/7, allowing them to achieve these tasks and much more.
Recent research by Gartner reveals that B2B buyers spend a large portion of their time (27%) on independent online research before purchasing.
Nevertheless, the world of B2B operations is considerably more intricate and protracted than B2C.
Long-drawn-out buying processes: Your B2B decision-making cycles can vary on the basis of your industry. In some, like in the retail sector, it can be as brief as a few days, while in others, such as global energy transactions, it can stretch across months or even years. Regardless of duration, B2B portals can support buyers throughout this complex journey.
Involvement of multiple stakeholders: Typically, in the B2B decision-making process, 6 to 10 individuals are engaged. Thus, most portals should have access privileges, roles, and personalized content for diverse stakeholders.
Varied payment methods and high-value transactions: Businesses to conclude deals with various transaction types and payment methods. Also, the average value of online purchases has been immense. It has kept increasing in recent years, according to McKinsey B2B Pulse.
An increasing percentage of firms from $500,000 to over $1 million through digital channels (35%) are willing to perform high-value transactions.
In other words, web portals are no longer limited to small-ticket purchases; they come with solid tools for secure, flexible, and efficient transactions.
These unique characteristics influence the scope to create a B2B portal. It indicates the main features to think to align with your clientele's necessities.
Essential features for your Web-based B2B portal
Roles and Access Rights: Roles and access rights give the required information simply and safely for different organization members about the B2B decision-making process. Makes the process easy and peaceful for a consumer.
Secure Authorization and Business Accounts: Unique pricing and services must be fundamental in setting up a B2B portal apart from a generic website, business account, and other secure authorization features that will help identify users.-
Product and Service Pages, Catalogs, and Self-service eCommerce Features: ordering, payment, shipping, tracking, order history, and reordering accelerate the purchasing trip through product catalogs with self-service e-commerce features. Recommendation algorithms, Smart search, and personalization add value to the buyer's experience and lead to the perfect sales engine.
Your priorities, niche, infrastructure, and audience determine how functional your portal is. Some attributes, whether a marketplace, a supplier, a customer management platform, or an eCommerce platform, relate to almost every B2B online portal.
Payment and Credit Tools: In creating a tailored Web-based B2B portal, consider multiple payment and credit instruments. With flexibility, buyers with these features can use effective online buying strategies.
Integrations: Some web-based B2B portals also work together. They are usually interconnected with other business systems in the Firm, like CRM, ERP, as well as document management systems. Such interconnections enable safe data transmission. You can say it contributes to unifying experiences from various channels.
And the advantages begin here.
Advantages of a custom Web-based B2B portal for your Firm
Better Client Satisfaction and Increase Loyalty: Those companies that offer superior experiences gain those customers' loyalty. Such experiences can be developed via a Web-based B2B portal. Personalized offers, easy navigation, easy access to products and services, and an uninterrupted path through search, order, and one-click repeat orders. These elements lay the foundation for sustained engagement and cultivating loyalty.
Streamlining the Sales Cycle: Web-based self-serve tools for purchasing are more expedient and simpler than equipping your clients. Such instruments could comprise catalogs, web demos, interactive dashboards, and complex ordering functionality. The objective is to reduce the sales cycle and enable you to close deals faster.
Automation for Efficiency and Cost Reduction: Every B2B process is associated with automating possibilities. Start pinpointing inappropriate operational issues that automation could address when building a business-to-business web portal. Use web tools to avoid using files, spreadsheets, manual invoices, telephone calls, and human errors. In practice, process automation, based upon complexity, yields between 10% and 50% savings in costs.
Expanding Reach with Fewer Resources: Set up an online presence that allows potential clients and partners to find what they need without sweat and accomplish their missions fast. You can reach a broader clientele base without employing more sales force or setting up new branches in every place through a B2B portal.
Enhancing Visibility: A web portal is a centralized platform for integrating multiple business systems. This integration is a comprehensive 360-degree view of your B2B operations. It can be insights into client journeys, interactions, order statistics, etc. This data equips you with the ability to formulate insight-driven strategies for your business.
Cost-Effective and Scalable Operations: Apart from eliminating the necessity for new branches, integrating a custom web portal for B2B operations offers the advantage of scalability. You can expand your services, geographic reach, and data sources with compelling content management tools and integrations. You can execute vendor lists rapidly without incurring high costs.
We have given a talk on the role and benefits of B2B web portals and how to adapt them to the unique attributes of your B2B interactions. Our next stage is guiding you through the procedure of developing web portal. Let's move!
Key steps To Develop the Web-based B2B portal
Developing a Web-based B2B portal doesn't seriously move away from the standard software development approach applicable across industries. It has research, design, development, support, and maintenance stages. What's more, it involves several big steps. These stages enable the technical team to create a system without a glitch. You can integrate these into your infrastructure without minimal disruption to your operations.
Discovery
In a discussion concerning the customization of a Web-based B2B portal to meet particular business's needs, a powerful focus is vital for starting the whole process called Discovery. It investigates many important aspects, including the need for the project, intended audience, market dynamics, competitor analysis, specific technologies in the industry, and identified business opportunities. Moreover, Discovery delivers a precise project estimate, scope, and road map for the development.
These activities usually last several weeks or months and produce valuable products. This includes detailed specifications, a customer catalog, a market study, a depicted product idea, and a precise project road map. In closing this phase, you should be clear about how you want the system to look and have a well-documented plan for each implementation phase.
Note that the technology analysis in designing a B2B portal is one of the key aspects of the research phase. It entails entirely scrutinizing the associated third-party platforms, systems, state of the technology stack, integrations, and APIs to be connected to the portal. Decisions at this stage regarding scalability, security, and overall performance will highly influence the system's architecture.
Ideation and design
It is a collaborative effort. This phase revolves around designers. They use research findings and stakeholder input (branding, marketing needs, and style guidelines). The aim of this is to craft a practical user experience and user interface for the future web system. Through a series of iterations, initial sketches grow into wireframes. Then, a clickable prototype illustrates user trips throughout the B2B portal.
Development and testing
Design, development, and testing are the last major phases of Web-based B2B portal development. These take place in succession as different iterations. This depends on the size of the project, and it can range from two to four weeks for each stage. They develop system components and an interactive user interface. The data is migrated, and APIs get configured. It can integrate with in-house software and external components through a web portal. Some of these modern engineering methods are CI/CD, unit testing, and test automation, just to name a few.
Delivery and support
It launches the first well-designed variation once it reaches the delivery and support stage. Then, your clients and partners have begun to use your portal. As such, performance and usage data can be retrieved. Insights into system optimization and scalability. Clients' valuable input and genuine data now form an equally important source of information. The Web-based B2B portal is customized according to this information to cater to the increasing and existing needs of users.
B2B Portal Creation Asking Price
Custom Web-based B2B portal development costs fluctuate over time. Factors like project scope, team composition, chosen tech stack, delivery timeline, and integrations are the reason.
The overall project cost depends on these variables, whether you opt for an in-house web development team or outsource the project.
For example, based on the average hourly rates of UX/UI designers, backend and frontend developers, and QA engineers in Dubai, around AED 30,000 is charged as a starting cost for a B2B portal project.
You can contact our team for a precise and detailed estimate tailored to your specific Web-based B2B portal needs for better understanding. Share your requirements, objectives, and expectations with us, and we will arrange a call for your project discussion. Through research and analysis, we will provide you with an accurate cost estimate for your project.
Hire a knowledgeable team To Create a B2B portal
Are you in search of the best web development services in the UAE with a proven track record in B2B portal development? Your search ends here. Our team has crafted value-driven solutions for B2B brands for a decade.
Our proficiency is well-established, with over decades of experience in web development tailored for B2B brands. Our cross-functional teams possess a diverse tech stack, including Angular, Java, React, Node.js, Vue, Microsoft Azure, Python, AWS, Google Cloud, NET, and more.
As a prominent web CMS development company in Dubai, our extensive portfolio has the successful delivery of numerous web solutions for a range of esteemed clients.
Not only do we bring a wealth of industry expertise spanning logistics, retail, agriculture, healthcare, education, sports, and more. But like many top digital marketing companies in Dubai, we adhere to ISO-certified courses like ISO 9001 and ISO 27001. This guarantees the consistent quality of our deliveries.
You can count on our web CMS development company in Dubai as your dedicated and experienced partner for all your B2B portal development needs.