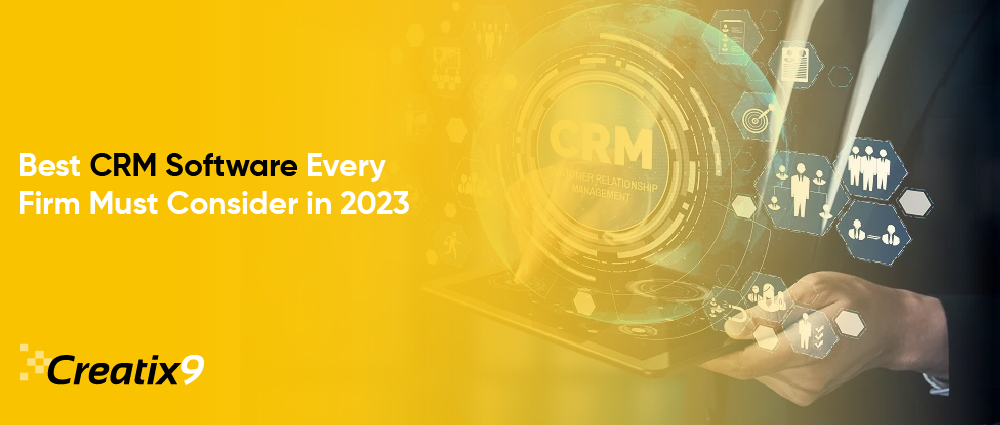 The best Customer Relationship Management (CRM) software gives invaluable insights into your clients' desires. It streamlines daily tasks by automating routine work and monitoring interactions. Employees can focus on their clients, and give can a satisfied experience every single time.
In 2023, the money earned from selling CRM software is predicted to be around US$79.40 billion. It's expected to keep growing every year at a rate of about 10.68% from 2023 to 2028, reaching about US$131.90 billion in 2028.
On average, each employee working with this software is estimated to spend around US$22.81 in 2023.
When we look at the whole world, the biggest money will be made in the United States. They're projected to make about US$40,750.00 million from this software in 2023.
Read on for comprehensive evaluations of our leading selections of the best CRM software in Dubai.
Nextiva
Nextiva is a CRM for sales that helps companies communicate with customers quickly and handle leads in a central location. LeadSquared provides customizable sales pipelines that enable efficient deal tracking and automated, personalized lead messaging. The difference is that Nextiva provides both CRM tools and VoIP phone service, which can be connected with video chat, conference calling, and call recording.
Nextiva has A unified workspace for emails, calls, and notes; real-time analytics for tracking performance; integrations with popular business tools, task and deadline management; transparent team collaborations; customizable pipeline tags, instantly calling from the same platform. Teams of 20 or more can start at $32.95 per month if they go for annual contracts. Start today with a demo.
Salesforce
Among the best CRM software's is Salesforce, used by small businesses and also large corporations. This product is highly adaptable, gives tailored solutions for 14 different industries. With an AppExchange-based CRM solution, you can choose the apps you need – from marketing and ecommerce to call center software and self-service portals.
Salesforce's Features: Various business-specific pricing plans trusted by over 150,000 enterprises, such as T Mobile, Adidas, and Yeti, with numerous add-ons and customization options. Try it out for yourself and experience the power of Salesforce in creating unbeatable customer relationships.
Monday.com
Monday.com is popular with project managers. It also delivers an impeccable sales CRM that can handle the whole sales process in one dashboard. It fits nicely into over 200 tools and apps, making data management easy and enhancing sales workflows.
With seamless integration to other tools, email sync, lead capturing, and more. There are 4 price plans and a 14-day free trial to try its possibilities. Monday.com's CRM is designed for sales with features for the needs of sales teams, account managers, and business owners.
Pipedrive
Pipedrive is ideal for beginners to use CRM software or an easy solution. A simple structure with a pipeline-oriented setup allows for quick tracking of the leads. Its drag-and-drop interface and customizable fields match your already established workflows. Pipedrive is also integrated with automation tools such as Slack and Zapier.
Pipedrive is exceptional in data and reporting, which are essential in sales. Its features include customized reports, pipeline metrics, and goal-setting in individuals and teams. The features that stand out in Hubspot are leads inbox, sales pipeline, calendar/email sync, and a mobile CRM.
Pricing-wise, Pipedrive is quite pocket-friendly, going as low as $14.90 monthly for the Essential plan and up to $99 monthly for the Enterprise plan. There is a 14-day free trial without a credit card to try Pipedrive. It is an excellent approach to organize and unify all the sales activities.
Zoho
Thus, Zoho CRM suits companies looking for flexibility without long-term contracts. User-friendly allows the creation of customizable dashboards and multiple pipelines for various needs. It provides real-time sales insights, prospect scoring for a team, mass email capability, and more.
Zoho CRM has tremendous power while being budget-friendly, as its monthly plans start at $14 per user. These higher-tier plans cost $23, $40, and $52 per user, respectively. Zoho CRM also has a free forever edition for small businesses of up to three users. You can sign up for a Zoho CRM free trial of 15 days to understand if this system suits you. Also, look at Bigin, a cost-effective sales-centric platform for small businesses priced as low as $7 per month.
Freshsales
Freshsales, previously Freshworks CRM, is tailor-made for sales teams and lead management. It's ideal for those seeking an easy-to-use CRM without extensive customization. With over 40,000 business users, including Dyson and Best Western, Freshsales has a track record of effectiveness.
It has lead, contact, account, and deal management features like website visitor tracking, mobile apps, and lead scoring. It simplifies sales conversations with team inboxes and email forwarding. Freshsales pricing is affordable, with options starting from $15/user per month. A 21-day free trial is available with no credit card required.
HubSpot
HubSpot has rich and free CRM software to streamline customer relationship management. It comes with valuable insights into audience behavior, email tracking, website activity monitoring, and more. Position-specific solutions cater to various sales, marketing, customer service, operations, and ownership roles.
The free plan includes essential features like contact management, deal tracking, and reporting. HubSpot's paid plans with more functionalities, starting at $40 per month when billed annually. A bundle of all four CRM software solutions is available at $50 per month for a 12-month commitment.
The free tier suits small and medium-sized businesses, while the paid tiers comes with more for growing SMBs. Large enterprises may find basic features but may require greater customization. A free plan can be started without any commitment.
EngageBay
EngageBay is an all-encompassing CRM suitable for sales, marketing, and service. It simplifies contact management, task setting, and automation for emails and SMS. It delivers a unified interface for viewing funnel data, social interactions, and email campaigns. It integrates smoothly with Gmail, Outlook, and Office.
EngageBay excels in post-sale relationships with a service bay module that eases support tasks. The Growth plan, priced at $29.99 per user per month, provides robust marketing, sales, and customer service automation capabilities. It allows email sequences to re-engage customers after service interactions.
EngageBay's versatile tool benefits various industries, and you can explore its capabilities with a free plan before upgrading to the Growth Plan for comprehensive CRM functionality.
Salesflare
Salesflare makes lead management easy for small businesses by pulling contact details from emails, social profiles, and more. This information is arranged in special sections per each account and standard contacts for your team. The software automatically monitors all team and prospect activities, allowing for a flexible approach to the buyer's journey.
Salesflare alerts your team on prospect actions, thereby guaranteeing responsiveness towards warm leads. The base Growth plan of $29/user per month includes automation, email campaigns, and insights dashboard. The Pro plan also costs $49/user per month has features such as a custom email workflow builder and user permissions. The Enterprise plan comes with extra monthly support at $99/per user, including a dedicated account representative and custom training courses.
The smaller B2B enterprises would benefit from using Salesflare, with a free trial and demo.
Creatio
Creatio is an enterprise-grade CRM software for large companies with solutions in sales, marketing, and customer services.
For example, Marketing Creatio has features like a visual campaign designer, website behavior tracking, trigger campaigns, and personalized email marketing that assist in streamlining multichannel marketing campaigns. It is priced according to the number of contacts and emails per contact.
The product allows you to manage the sales process for a large team, including opportunity management, detailed customer profiles, and reporting on the team's performance. It is priced from $30 per user per month.
Creatio enhances the customer service process, like account and contact management, case and knowledge management, omnichannel communications, and a contact center. At $45 per user, monthly.
If needed, you could bundle all these three solutions, and their online pricing calculator enables one to estimate their total cost.
However, you want to optimize the digital part of your business more. In that case, you can call Creatix9 UAE and experience the expertise of our software development company in Dubai.
What to Look at to Get the Best CRM Software in UAE
Go for the right CRM software for your firm can take time and effort due to the many options available. However, it's important to remember that each CRM software is designed to address common business challenges.
To start the selection process, engage with your customer service agents, sales representatives, IT team, and other potential users of the CRM software. By doing so, you can gain valuable insights into their daily issues.
The key is to find CRM software that can benefit everyone in your organization by optimizing customer relationships. This involves assessing your company's current situation and future objectives.
Consider Your Business Size
The size of your company matters when choosing CRM software. Larger businesses with various departments like marketing, sales, IT, and customer service need advanced functions. Consider who will manage the software; it's not just about purchasing it. Small teams may collaboratively set it up, while larger teams require dedicated staff. Remember that the software's cost increases with the user seats you need.
Identify Your Challenges
What needs to be fixed in your current operations? Think about the areas you want to streamline and improve. CRM software can enhance sales, marketing, IT, and customer service, so consider which aspects need improvement and whether you have the resources to implement and maintain these changes. There are industry-specific CRM solutions, which can be pricier but save time in configuration.
Evaluate Basic CRM Features
Most CRMs come with standard features. Ensure your chosen CRM includes contact and lead management, document storage and sharing, workflow automation, interaction tracking, and mobile access. Review how these features are managed in the platform, as they can vary.
Explore Advanced CRM Features
Advanced CRM features can significantly impact your business. Features like workflow automation, payment processing, and invoice sending can save time. These advanced capabilities usually come with higher-tier plans, so weigh the costs against the benefits. Some vendors gives high-end tools as part of mid-level plans, so compare your options.
Check for Third-Party Integrations
Your CRM should integrate with your existing tools to streamline your business processes. Make a list of the tools you use, such as email platforms, social media tools, internal communication software, customer service tools, and more. Ensure that your CRM can integrate with these tools, and use this list to narrow down your options and discuss your requirements with the sales team.
Summary
Having the appropriate CRM software can yield a significant and swift impact. It enhances organizational efficiency and ensures customer satisfaction.
Our top recommendations for most businesses include Nextiva, Monday.com, and Salesforce. Each provides features suitable for various departments, such as sales, marketing, and customer service.
Even so, determining the best CRM software in Dubai for your business depends on its size and specific feature requirements. Therefore, apply the earlier criteria as you progress through the decision-making process.
You can discover the power of enterprise portal services in Dubai with us. Creatix9— a leading digital marketing agency in UAE – Contact us today.